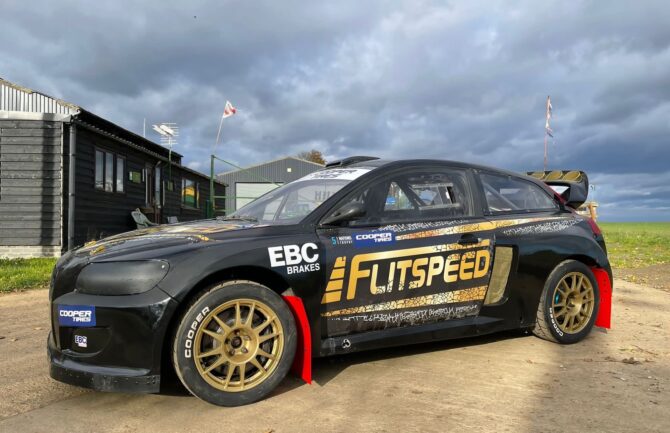 Dom Flitney returns to Supercar action in ex-Holte Volvo
Dom Flitney has confirmed he will contest the remaining rounds of the 2021 Motorsport UK British Rallycross Championship 5 Nations Trophy Presented by Cooper Tires in the ex-Frode Holte Volvo C30 WRX Supercar.
Flitney, who only came into rallycross in 2018, previously competed in Swift Sport Rallycross before graduating to Supercar in 2020 at the wheel of a 500bhp Flitspeed-built Subaru Impreza RX Supercar. In the opening rounds the lack of power prevented Dom from matching his rivals and he hopes that the T16 4x4 WRX race-winning car will put him on the pace with the championship regulars.
The C30 was used successfully by Norwegian Holte in 2011, claiming fourth place in the FIA European Rallycross Championship, before his compatriot Daniel Holten shared driving duties in 2012. Now the car is undergoing work at the Flitspeed base in Cambridgeshire ready for its first outing in 5 Nations BRX at Lydden Hill, Kent for the double header event on 6 & 7 November.
"I had such a great time driving the Subaru, as I'm a big fan of the car and it's one that really suited me," said Dom. "However, to allow me to run nearer the front I needed more horsepower. The car is so well known in rallycross circles, and has always been popular with the fans, not least at Lydden.
"It will be great to bring another new manufacturer onto the Supercar grids too – I don't like being the same as everyone else, I've always liked to be a little bit different. It will of course be very different to anything I've ever driven, even the sequential gearbox will be a first, and it's obviously much more high-tech than the Subaru. Hopefully the increased power output will allow me to run much higher up the grid, with a long-term view to be chasing for podiums and wins."