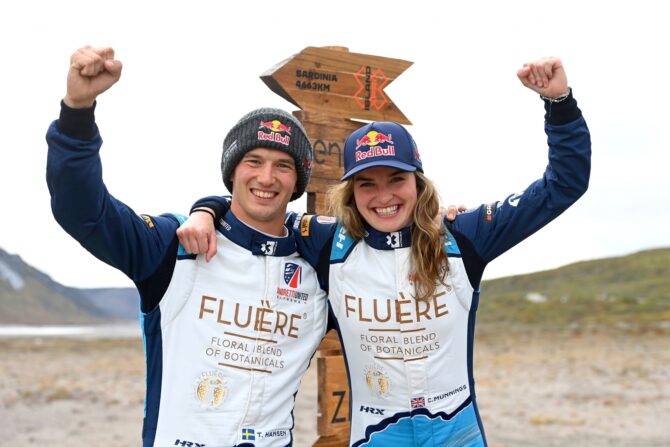 Extreme E star Catie Munnings to race Suzuki Swift in 5 Nations BRX at Lydden Hill
Extreme E event-winner Catie Munnings will make her Motorsport UK British Rallycross Championship 5 Nations Trophy debut at Lydden Hill later this month, racing in the single-make Swift Sport Rallycross Championship.

24-year-old Munnings, who alongside her motor sport exploits is famous for hosting the BBC CBeebies 'Catie's Amazing Machines' series, hails from a background in rallying, having campaigned two-wheel-drive machinery in FIA European Rally Championship and FIA World Rally Championship events. She claimed the ERC's Ladies' Trophy in 2016.

Since 2021, she has driven for the Andretti United team in Extreme E, as team mate to former FIA World Rallycross Champion Timmy Hansen. The pair won the Artic X Prix in Greenland last year, and finished third overall in the highly competitive championship.

Now, in the gap between the opening rounds of Extreme E season two, Munnings will follow in team mate Hansen's footsteps by using the Swift Sport series for identical single-make cars to continue her mixed-surface racing development, driving a car hired from Peter Gwynne Motorsport, just as Hansen did in 2012 ahead of his switch from single-seater circuit racing to European and then World Rallycross, where he has been so successful.

"I was speaking to my Extreme E team mate Timmy Hansen recently about what I could do for some fun training during the long gaps we have in the Extreme E calendar, and racing in the Suzuki Swifts at Lydden sounded like a really cool opportunity," said Munnings. "Timmy mentioned that he'd entered a round of the Swifts and that it's a really competitive class – a really good place to learn side-by-side racing. I love the sound of that challenge, it's something completely different for me. I'm very new to rallycross, I've only done one or two races before in different formats, so it's a new challenge and I'm under no illusions of how it's going to go, it's just going to be a great place for me to be getting as much as I can out of the side-by-side racing experience. I've done some rallycross in the Nordic series in Sweden and Nitro rallycross in America, but the cars were very different to what I know and required a totally different driving technique, so with the Swifts I'm hoping I can adapt quickly to the cars and be able to focus on the racing action. Lydden is really close to my home, so hopefully I can get my family and friends down. It will be so nice to race in the UK, most of my motor sport has been overseas so it will be a lot of fun."

The Lydden Hill event is the opening weekend of the 2022 5 Nations BRX, before the series also heads to events in Wales, Ireland, Belgium and France. See full calendar below.