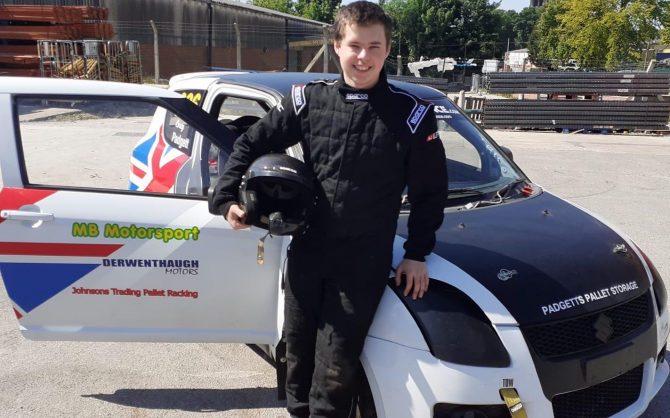 Father and son take on Suzuki Swift challenge
Corey Padgett to contest full season in Juniors
Phil Chicken comes out of retirement for Suzuki Swift challenge
Corey Padgett is the latest newcomer to confirm his participation in the Motorsport UK British Rallycross Championship 5 Nations Trophy Presented by Cooper Tires. Corey has been competing in grasstrack racing for the past two years and turned 14 in January, the minimum age in which he could compete in the MSUK Junior Rallycross Championship
Corey was fortunate to get a Swift from his parents for Christmas and wasted no time in making his rallycross debut, in the final Winterseries event at Lydden Hill in March. A clutch issue in his first qualifying heat did nothing to dampen his enthusiasm and he went on to finish fifth.
"It was a great weekend at Lydden Hill, and I just can't wait to go racing properly in 5 Nations BRX." said Corey. "I'll still be doing grasstrack racing, and the BTRDA Championship to give me additional seat-time."
His father Phil Chicken is more familiar to rallycross fans as a regular competitor in his Citroen C2 in Super 1600. The immaculate car has now been converted into rally spec and Phil was planning to retire from rallycross and concentrate on rallying for 2020.
However, Corey had other ideas and after cajoling his dad into competing with him once again in rallycross, Phil has decided to come out of semi-retirement to compete in the Swift Sport Rallycross Championship in 2020.
"We bought Corey the Swift for Christmas as it was clear that's where his ambitions lie. The C2 is all ready for rallying and I thought I'd have a go at a couple of rallies this year and then probably sell the car. But Corey was determined we should rallycross together and chose his moment well, after a bottle of wine, to convince me to do it! So, we did Lydden in March and I finished third, and actually now it's given me the bug again to do 5 Nations BRX this year."
The Swift Sport Rallycross Championship and MSUK British Junior Rallycross Championship will both compete over seven rounds in 2020, starting with a single header round on August 30/31 at Lydden Hill, Kent. This is followed by double header rounds on: 26/27 September - Knockhill, 17/18 October - Pembrey and 14/15 November – Mondello Park.