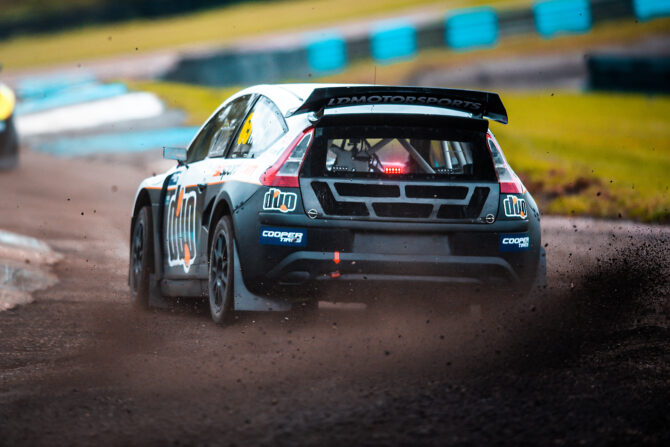 Former champion Evans set for shock 5 Nations BRX Supercar return at Mondello Park
Former Motorsport UK British Rallycross Championship 5 Nations Trophy champion Christopher Evans will make a long-awaited return to the series for his home double-header of the 2022 campaign at Mondello Park next week (June 4-5).
Evans claimed the 2006 crown in emphatic style, driving a Tony Bardy Motorsport-run Opel Astra, and will now return to the series with a Pat Doran-owned Citroen C4 at Mondello Park next week, joining a line-up that includes the best Supercar contenders from the British and Irish Rallycross Championships respectively.
45-year-old Irishman Evans made selected Supercar appearances, including with impressive outings in the FIA European Rallycross Championship, following his British title success, but he hasn't raced a rallycross Supercar for over 12 years.
Also known for racing a Vauxhall Nova, and then a unique Nissan Micra to two-wheel-drive glory in the Supernational category in both the British and Irish rallycross series, and more recently a competitor in targa rallies, auto testing and sporting trials, Evans makes a welcome return to the grid for what will be a festival of rallycross at Mondello Park next week, the first time 5 Nations BRX has held a round at the Naas circuit since 2017.
"I've been talking about doing something for some time, I've wanted to do British Championship races for the last few years, the series is strong and it's exciting to be getting involved. An opportunity came up to race at Mondello, so we've got something together to make a comeback," said Evans.
"Things have changed since I last drove a Supercar, I'm told the technology makes the cars more reactive than when I raced my old Astra. I've been doing targa rallies, sporting trials, or autotests every second or third weekend in Ireland, so it's not like I've been doing no motor sport at all, so I should be okay. I'm really excited, but I'm also a little bit apprehensive. All of the drivers in the championship are quick, they've all been racing regularly for the last few years and now I'm jumping back into the middle of it. I've no idea how things will go – of course I'm doing the event to have a bit of fun, but going there just to have a bit of fun isn't really me either – I want to do well. It will be interesting to get in the car on the Saturday morning, I'm approaching this as a one off, but you never know what might happen in the future."
The full entry list for the double-header weekend will be revealed in the coming days, while details about how to attend what is set to be a thrilling event can be found here.