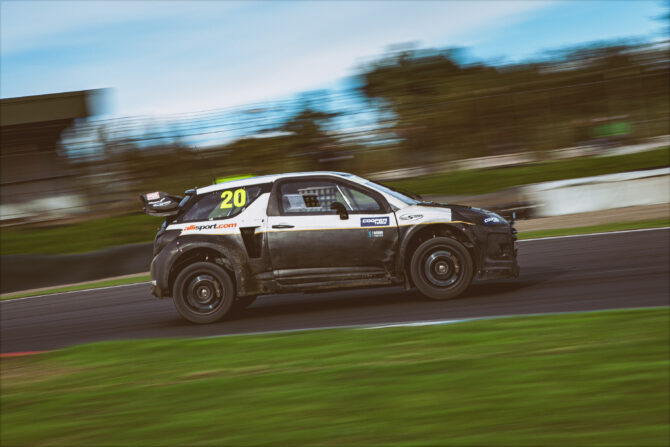 Godfrey joins Team Duo for 5 Nations BRX 2023 with Citroen DS3
Record-equalling Motorsport UK British Rallycross Championship 5 Nations Trophy Champion Julian Godfrey will embark on a fresh campaign in 2023, driving a Citroen DS3 in the series as part of the Team Duo line-up.
Six-time Champion Godfrey stepped up to the headline Supercar category in 2011 with an ex-Pat Doran Ford Fiesta and has since driven the car to all but three of his 23 career event-victories.
Having also campaigned a Mitsubishi Mirage during the 2019 season with the Spencer Sport team, Godfrey made a rare appearance in a Citroen DS3 at Knockhill in 2021 after issues with his own car on the first day of the Scottish event.
It is indeed the same DS3 that his own team will now run in 5 Nations BRX this year, scoring points for both Godfrey in his pursuit of a record seventh Supercar crown, and Team Duo in the new 5 Nations BRX Teams' Championship.
Godfrey will race the car in the opening rounds of the 2023 season at Lydden Hill this weekend, on Easter Saturday and Easter Monday.
"We got the car last week and the plan is to do the whole championship again this year," said Godfrey. "Pat Doran and I got talking about the idea of me buying the DS3 when we were at a Ford RS200 day at Lydden last year, and we've sorted a deal. The car has a lot more traction on the loose than my Fiesta and obviously I drove it at Knockhill a couple of years ago. But there were a few things that weren't right with it that day and I was fairly careful too as Pat had kindly lent it to me. Hopefully when I've had some more time in the car it will be quicker than the Fiesta was – that's the plan."
Godfrey says the influx of young talent in the series will pose the biggest challenge this season. "Patrick O'Donovan is going to be very fast with his new car, Jack Thorne is quick and so is Roberts Vitols, but lots of people are able to get on the podium so it will be interesting to see how it does. The weather looks good, a bit of sunshine and dry so hopefully it's a good event."
Find the full 5 Nations BRX calendar below, while tickets to the Lydden Hill Easter Weekend event can be purchased here.