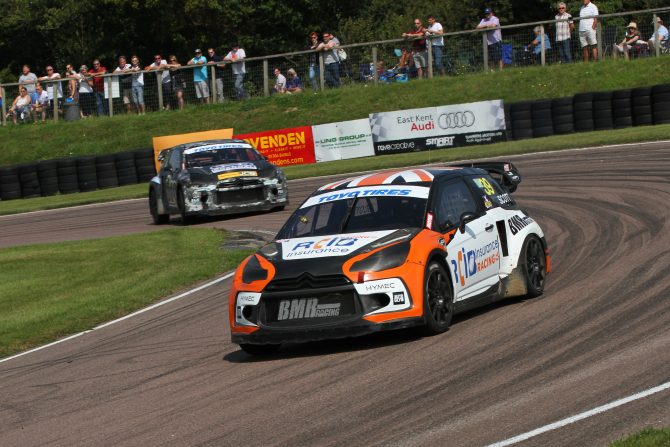 Great Scott claims first British RX victory at Lydden Hill
Former British Touring Car Championship driver Warren Scott (Buntingford) scored his maiden rallycross victory in the sixth round of the Toyo Tires MSA British Rallycross Championship at Lydden Hill [August 28] to become the fourth different winner of the year.

Scott started the final from pole position, by virtue of setting the fastest time in two of the three qualifying races and winning semi-final one in his Citroen DS3. He ran second through Chesson's Drift in the opening lap of the final, but overtook LD Motorsports team-mate Nathan Heathcote (Ashford) before the North Bend Hairpin to move into the lead. From there, the Team BMR owner increased his margin throughout the race, taking his joker on the final lap to maintain his lead and secure his first win in commanding style.

Round one winner Heathcote finished as runner-up in a second LD Motorsports Citroen DS3 to move into Championship contention, while title-protagonist Oliver Bennett (Bristol) scored his fifth successive podium in his Ford Fiesta Supercar; three of the drivers with the least experience in the top-level rallycross Supercar category filling the podium.

Both Scott and Heathcote had missed the opening race of the day with technical issues, where points leader Julian Godfrey (Heathfield) set the fastest time. The five-time Champion started on the front row for the final and took his joker on the first lap. He finished fourth, ahead of Kevin Procter (Northallerton) and Pat Doran (Dolton), the latter returning to with the Citroen C4 he raced in the series last season.

"Nathan made a cracking start, I tried to keep my nose in front but it would have meant taking us both out, so I slipped in behind him. I saw him go a little bit deep into the left hander and managed to get inside, then it was just a matter of keeping my lines, concentrating on my braking points and not messing up really. I've been looking forward to this since I started the year," said Scott. "To get a win here at Lydden is great and to win my first race is great; I've had a really great day. Getting into a 600 horsepower four-wheel drive car has been entertaining from the start and I'm loving every minute of it."

Heathcote's podium elevates him into overall contention, when dropped scores are taken into account (each driver must drop two scores from the opening eight rounds of the season). "I was a bit shocked about how well I got away in the final, then I was absolutely gutted I threw it away. It makes it a bit better that it was my team-mate that got past me, but that's not good for anyone really,"said Heathcote. "It's been a very up and down day, but it's great for the team to get a one-two. This is definitely what I need for the Championship. I can't wait for the next round."

Bennett's third place moved him to within a point of leader Godfrey in the standings. "I couldn't have done much more from the second row of the grid, so to come away with a podium, I'm really pleased. We had to fight through the pack and luckily the joker laps played out well, so I couldn't have asked for much more really," said Bennett. "It's good to finish ahead of Julian, he's the guy we're fighting for the Championship with. He was fast at Pembrey, where we go next and I think it's going to be an exciting end to the year." 

Ollie O'Donovan (Iver) qualified second in the Intermediate Classification, but picked up a front-left puncture while leading semi-final two and didn't qualify for the final. However, he joined Jake Harris (Canewdon) on the back row of the grid when Steve Hill (Thame), who had qualified seventh, withdrew. In the final, the Irish driver suffered another puncture.

Harris had followed Godfrey and O'Donovan through the joker on the first lap of the final but was slowed by fuel pressure issues during the race. He crossed the finish line in eighth. Andy Grant (Barnstaple) retired from semi-final one due to mechanical problems with his Ford Focus, while Mad Mark Watson (Barnard Castle) was plagued by technical issues throughout the day with his Citroen Xsara and didn't start the semi-finals.
 
Home success for Ovenden 
 
Canterbury racer Tristan Ovenden led the MSA Supernational Rallycross Championship final from lights to flag in his Renault Clio V6 to close the gap in the two-wheel drive series to points leader Paige Bellerby (Nothallerton), who finished third.
 
Lotus Exige driver Bellerby battled with reigning champion Tony Lynch (Wigan) over second position in the final, Lynch claiming his third podium in a row after a difficult start to the season. Allan Tapscott (Umberleigh) returned to the series having been forced to miss the Irish double-header in July and was fourth, ahead of Guy Corner (Northallerton) and the hard charging Vincent Bristow (Hastings). Todd Crooks (Royston), who finished on the podium in round two of British RX at Lydden Hill, crashed out of the event in Q3 but stepped out of his car without serious injury.
 
"We definitely weren't counting our chickens today, we've really kept on top of the car and I'm so happy to win at my home track," said Ovenden. "We changed a few bits over the last couple of events, but the car didn't feel great in the morning, so we changed back to the settings we had earlier in the year and it was working fine again. We've got a lot of support here at Lydden too, it's really special to win a final in Supernational and it's been a really good day."
 
Llewellin hangs on to score another victory
 
Welsh driver Tom Llewellin (Haverfordwest) moved closer to the top prize in Junior rallycross by winning the MSA Junior Rallycross Championship final at Lydden Hill, fending off the attentions of Tom Constantine (Richmond) and Tom Middleton (Maldon) in the closing stages of the race. Constantine's second position moved the 2016 runner-up back to second in the standings in the single-make series, while Middleton's third place marked his first podium of the season, after a string of fourth place finishes.
 
Ole Henry Steinsholt (Norway) finished fourth having been slowed mid-race by an electrical problem, while Morgan Wroot (Doncaster) and James Constantine (Dalton-on-Tees) came together in the final at Chesson's Drift. Wroot finished the race, albeit almost a lap behind the leaders but Constantine would go no further.
 
"I had a big challenge on my hands in the last couple of laps. There was a crash and it made it a bit difficult when the yellow flags came out and bunched everybody up, but it was a good race and I like the challenge," said Llewellin. "I love this circuit, there's a lot of different technical parts to it, which is good. Having a close challenge makes it even more satisfying when you come out on top, it's the best feeling ever."
 
Shield wins again as Scott ends Coney's run
 
As he had in Ireland last month, Rob Shield (Cleasby) dominated proceedings in the Swift Sport Rallycross Championship at Lydden Hill, qualifying top at the Intermediate Classification before winning the semi-final and the final to close the gap on series leader Simon Ovenden (Canterbury) to just two points. The Lydden Hill local also won his semi-final and challenged Shield in the final, but dropped to third behind Morgan Bailey (Lincoln) at the finish. Christian Hainsworth (Guernsey) was fourth with round one winner Chris Woollett (Herstmonceux) fifth.
 
Super1600 Rallycross Championship leader Paul Coney (Dartford) had his run of consecutive wins ended on Bank Holiday Monday, Darren Scott (Sittingbourne) claiming victory in the amalgamated Super1600 / BMW Mini / Hot Hatch category for the very first time. Coney crossed the line in second, with Phil Chicken (Barnsley) third. Top Hot Hatch Rallycross Championshipracer Tomasz Marciniak (London) was fourth overall, ahead of a brace of BMW Mini Rallycross Championship contenders, Drew Bellerby (Northallerton) finishing highest in the single-make class from Martin Hawkes (Stockton on Tees).
 
Double RX150 Champion Chrissy Palmer (Chichester) just held on to score his fourth RX150 Championship victory of the season, the points leader slowed by technical troubles in the closing stages of the final, allowing John Ward (Dublin) to make a victory bid. Palmer held on to extend his lead and Stephen Jones (Havant) completed the podium.
 
Barry Stewart (Barcombe) started his second Retro Rallycross Championship event of the season and scored a second victory with his Porsche 911, fending off the attentions of Kevin Feeney (Hayes) throughout the final. Lance Foster (Washington) scored a popular podium in his Mini Clubman, ahead of Ray Morgan (Hastings). Category newcomers Vincent Sillett (Chatham) and Gary Mason (Chatham) finished fifth and sixth.
 
Full results can be found on the MSA British Rallycross Championship website here.
 
Photographs are reproduction free for media use but copyright remains © RallycrossBRX.com and that of the photographer.
 
Highlights of the MSA British Rallycross Championship will be broadcast on BT Sport, Motorsport.TV and online in 2017.
 
The next rounds of the MSA British Rallycross Championship take place at Pembrey in South Wales [September 23 – 24].