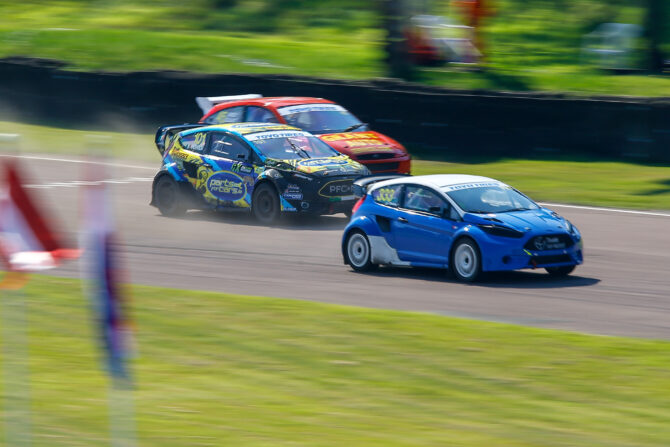 Jack Thorne to join BRX 5 Nations Supercar grid at Lydden Hill
Supercar interest hits 12 with more expected
Entries for rounds 2 and 3 close tomorrow
Where to follow the racing?
The Motorsport UK British Rallycross Championship 5 Nations Trophy Presented by Cooper Tires revisits Lydden Hill on 5/6 December with interest in the headline Supercar class currently at 12. Entries don't close until 26 November but already a number of rallycross stars have confirmed their participation for the second and third rounds next month.
Among the all-star cast is double Super 1600 Champion Jack Thorne who had planned to contest the entire season in Supercar this year but was forced to curtail his plans due to the pandemic. British champion in 2014 and 2018, Jack also competed in the Euro RX S1600 championship in 2019. On his last appearance in the headline class at Lydden in 2019 he finished a commendable second to eventual champion Julian Godfrey.
Now the Devon driver has confirmed his place in the ex-Thomas Bryntesson Ford Fiesta in a stellar line-up that includes six-time champion Godfrey, current leader Mark Donnelly, triple Supernational champion Tristan Ovenden and 2007 champion Ollie O'Donovan. There are a few other names that will be on the grid when the lights go out on 5 December alongside former drifter Dom Flitney, World RX driver Oli Bennett, race-winner and championship contender Steve Hill and series returnee and former GT ace Mike Sellar, which includes Isle of Man TT legend John McGuinness.
"I'm really looking forward to get racing this year, it's been a tough time for everyone so it will be great to see the rallycross family once more. I've not raced since Lydden Hill last year and this marks my first rallycross outing 2020, so I don't have any expectations. I just want to get back out racing and put on a good show. The Lydden circuit is great, it's not somewhere I have a lot of experience of, but I finished second last time out so I can't wait to go back."
Where can you catch up on all the information from the weekend? Live timing will commence on Saturday at www.rallycrossbrx.com/livetiming. Across our social media channels, you can get the results on Twitter: https://twitter.com/5NationsBRX, regular updates on Facebook: https://www.facebook.com/5NationsBRX, paddock insights and updates on Instagram https://www.instagram.com/5nationsbrx/, while footage will be uploaded to YouTube www.youtube.com/c/5nationsbrx