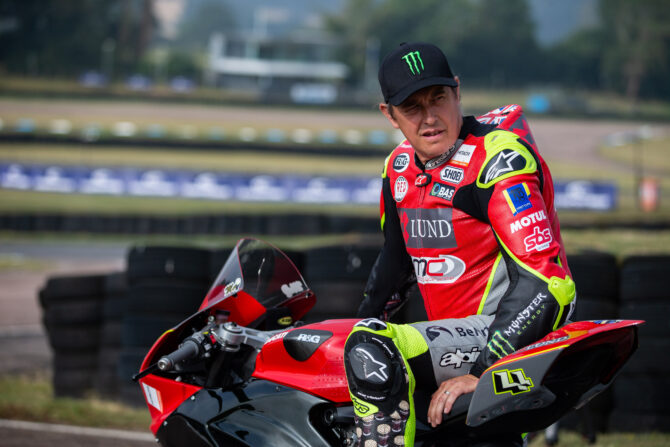 John McGuinness, King of the Mountain boosts Lydden Hill 5 Nations BRX grid
TT Legend to make four-wheel race debut in RX150
23-time Isle of Man TT winner John McGuinness will join the 5 Nations BRX grid at the season-opening round at Lydden Hill this weekend. Already committed to competing in Supercars at the second round at Knockhill next month, John made use of the recent Press Day to sample a 600bhp Citroen C4, but on Sunday and Monday will line-up in one of Ollie O'Donovan's 1000cc RX150s.
The event signals the start of the 2020 Motorsport UK British Rallycross Championship 5 Nations Trophy Presented by Cooper Tires, which sees a huge line-up take to the Kent track over the August Bank Holiday.
John has previously driven one of the RX150s in a test session and met up with former Supercar Champion O'Donovan this week, before agreeing to compete in the Rockland-sponsored buggy. John's competitive appearance will see his first at Lydden Hill since he contested the European Supermoto in 2003.
The Lydden Hill event is open to a limited number of spectators but tickets must be purchased in advance. Racing takes place on Sunday and Monday. Camping tickets are sold out but other ticket types for the weekend and single days are still available. Fans are advised to purchase as soon as possible to avoid disappointment. More info and tickets for the event can be found here.
John McGuinness:
"I got asked to compete in Supercars at Knockhill in September and naturally jumped at the chance as rallycross is super exciting and spectacular. I'm a bit nervous – it came about a bit quick but Ollie was very persuasive. I went in for a cup of tea and the next thing I was entered to race the buggy. It's got the Fireblade engine that I'm used to – just with an extra two wheels and a steering wheel. In for a penny in for a pound!"
Ollie O'Donovan:
"The reason I wanted John in a buggy is that they are ideally suited to retired bike racers – not that John's retired yet of course! The buggy is powered by a motorbike engine so it's a great link and I'm happy investing time in getting John ready for his Supercar appearance at Knockhill next month. Fortunately Colin Phelan at Rockland Concrete is happy to help support it too – so a big thank you to him.
"The buggies are fast – only two seconds a lap off the Supercars – they're the next quickest to Supercars with similar handling. It will be good experience for John on four wheels at a similar pace to his September race."