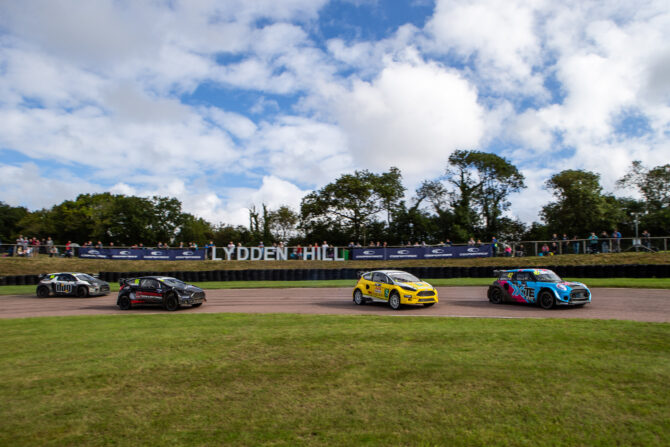 Oli Bennett promises to deliver on 5 Nations BRX return
Briton Oli Bennett has promised to put on a show when he returns to the Motorsport UK British Rallycross Championship 5 Nations Trophy Presented by Cooper Tires next month. Over the August Bank Holiday weekend Oli was consistently fastest, winning all four qualifying races, before a fuel infringement led to his exclusion. The Bristol racer, and his 600bhp BMW Mini Supercar, will look to repeat their dominant form when the series revisits Lydden Hill on 5/6 December.
"Coming from 10 years racing at a high level in motocross I'm not adverse to rubbing elbows with fellow racers and hanging on. Anything is possible with the nature of rallycross, from joker laps to mechanical issues to racing strategy on the track. Rallycross is a fantastic sport, and the track suits my driving style. I feel like I have adapted well to rallycross in my four years in the sport and aim to come home with a trophy or two."
A relative newcomer to rallycross, Oli famously once said 'You can outrun experience with a heavy right foot!' He only came into rallycross in 2017 racing an ex-OMSE Ford Fiesta in the British Rallycross Championship. Consistent performances over the nine rounds netted seven podium finishes and despite scoring the most points he missed out on the overall title by just nine points after dropped scores were discounted.
Oli made his World RX debut at Lydden Hill that year and at the end of 2017 his XITE Racing team began building a rallycross spec BMW MINI Cooper Supercar in which to compete in the FIA World Rallycross Championship. He debuted the car in the first round of the British Rallycross Championship at Silverstone.
2018 was spent developing the Mini in World RX before Oli made his Americas Rallycross debut, narrowly missing out on the semi-finals in his three appearances. After the final World RX event at the end of 2018, he made his Gymkhana GRiD debut in Cape Town, South Africa.
The two-day 5 Nations BRX event will go ahead under Elite classification which means that although racing will be allowed, spectators will unfortunately not be. That won't stop the former motocross rider from 'rubbing elbows' with the competition during the double-header event.
The 5 Nations BRX promoter has promised to increase the level of coverage via the official social media channels (5NationsBRX) and YouTube page, so that fans can share the excitement from the weekend.