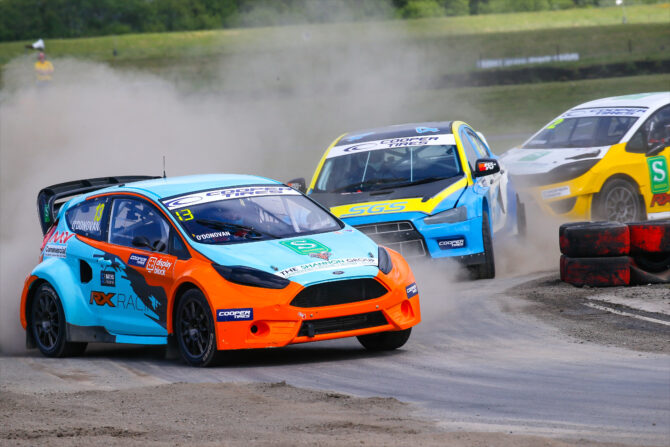 Rallycross set to wow Autosport Show Live Action Arena with star cars and drivers
Rallycross is set to wow tens of thousands of people at the Autosport International Live Action Arena this weekend in Birmingham, UK (January 12 – 15).
Reigning Motorsport UK British Rallycross Championship 5 Nations Trophy Champion Patrick O'Donovan, FIA World Rallycross Championship star Kevin Hansen and 14-time FIA European Rallycross Champion Kenneth Hansen headline the names performing in the event, as one of the world's most prestigious motor sport shows returns for 2023 after a two-year hiatus.
Rallycross' presence in the Live Action Arena will be among the highlights of the four-day show, with Trade and Media attending ASI on Thursday and Friday and doors opened to the public on Saturday and Sunday.
Cars and drivers from the headline 5 Nations BRX Supercar category and World RX's FIA RX2e all-electric support series will be in action as part of a thrilling rallycross element, which includes O'Donovan's title-winning Ford Fiesta, now carrying the coveted GB1 number.
2016 European Rallycross Champion Kevin Hansen and 2007 British RX Champion Ollie O'Donovan will drive within Team RX Racing's line-up in the squad's Ford Focus, Proton Iriz and Peugeot 306, and will also be joined by a special guest, or two. Swede Nils Andersson, a podium-finisher in the RX2e series, will drive an all-electric car RX2e car throughout the event.
5 Nations BRX 2022 event-winner Tristan Ovenden will perform in his Citroen DS3, joined by the similar car of Mike Sellar. Dom Flitney will field his Volvo C30, featuring a fresh livery for 2023, while Steve Hill (Mitsubishi Evo), Roger Thomas (Ford Fiesta) and Steve Harris (Ford RS200) will also take part with their familiar 600 bhp monsters from the 5 Nations BRX scene.
Alongside the Live Action Arena, there will be a 5 Nations BRX reveal on the Motorsport UK stand on Thursday January 12, while other cars will be dotted around the show's halls, including the Swift Sport Rallycross Championship, with its own stand.
Details of where to get tickets for the show can be found here.