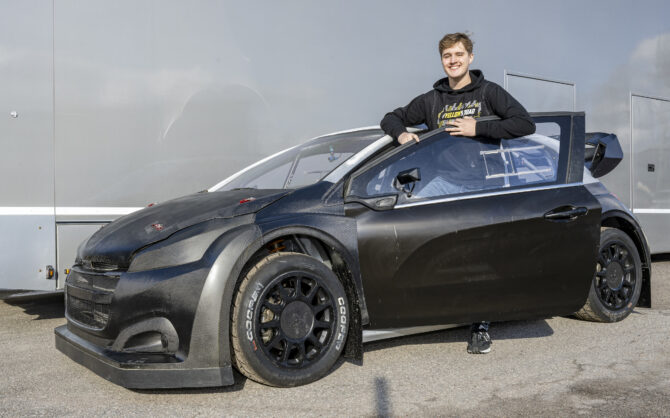 Reigning 5 Nations BRX Champion O'Donovan gets Hansen-built Peugeot 208 for 2023
Reigning Motorsport UK British Rallycross Championship 5 Nations Trophy Champion Patrick O'Donovan will begin his title-defence this weekend at Lydden Hill racing a Hansen Motorsport-built Peugeot 208 WRX Supercar.
18-year-old O'Donovan won seven 5 Nations BRX rounds in his maiden campaign last year on his way to becoming the youngest-ever British Rallycross title-winner.
For 2023 he is swapping the Ford Fiesta he raced last year for a Peugeot 208 WRX, the same car as campaigned by the legendary Hansen team in the World Championship until the end of the 2021 season, before the series switched to electric cars.
The 208 WRX was developed under the leadership of Hansen Motorsport Team Principal Kenneth Hansen – the most successful driver in rallycross history, with 14 Euro RX titles to his credit – while his sons, Timmy and Kevin Hansen, are both title-winners in their own right, Timmy the 2019 World RX Champion while Kevin is the 2016 Euro RX Champion and World RX race-winner.
O'Donovan, who will also be supported by the Hansen team's #YellowSquad young driver programme, and will again team up with father Ollie for 2023, who was announced last week as racing a Proton Iriz RX this year.
Together the pair will race in the new 5 Nations BRX Teams' Championship under the Team RX Racing banner.
Having tested the Peugeot 208 WRX in Sweden last week, O'Donovan will begin his mixed FIA European Rallycross Championship and 5 Nations BRX programme with the opening rounds of 5 Nations BRX at Lydden Hill this weekend, the venue where he made his Supercar debut last season.
"This is an absolute beast of a car and it feels really good to be in a position where we can head into Euro RX and 5 Nations BRX with competitive equipment. We really worked hard on assessing what to do this year, and I think this is a great step forward in my career," said O'Donovan.
"Ultimately my goal is to be in the World Championship and hopefully fight for the title, so these years are all about gaining as much experience as possible. I believe racing the Peugeot 208 WRX in RX1 will do just that. I know some of the circuits now from my time in RX2e and in 5 Nations BRX, and I can't wait to get racing this weekend at Lydden Hill."
Find the full 5 Nations BRX calendar below, while tickets to the Lydden Hill Easter Weekend event can be purchased here.