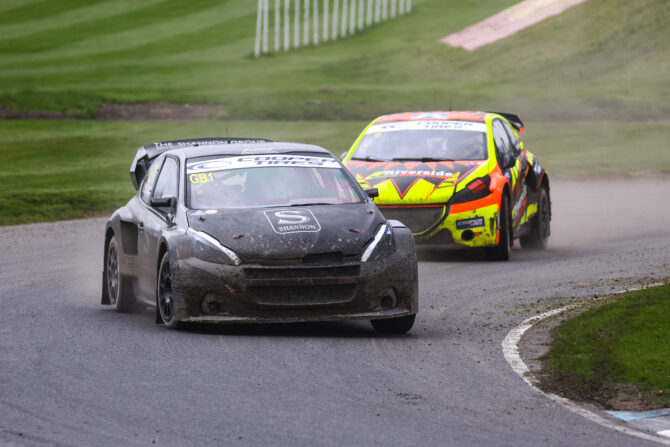 Reigning champion O'Donovan fights back to win 5 Nations BRX opener at Lydden Hill
Reigning Motorsport UK British Rallycross Championship 5 Nations Trophy Champion Patrick O'Donovan delivered an emphatic fight-back performance to claim victory in the 2023 season-opener at Lydden Hill (April 8).
Driving a Hansen Motorsport-built Peugeot 208 WRX, O'Donovan set the fastest time in both Q1 and Q2, but retired from the lead of the first semi-final with a gearbox problem. However, due to other cars retiring earlier in his race, the 18-year-old was classified fourth to secure seventh on the grid for the final.
Jack Thorne (Peugeot 208) started on pole position in the final and led from the front on lap one ahead of Ollie O'Donovan (Proton Iriz) and electric racer Viktor Vranckx (RX2e), as Patrick O'Donovan jumped up to fourth.
By the end of lap two Patrick O'Donovan was up to second and applying pressure to leader Thorne, before the Team RX Racing driver used an earlier-joker-lap strategy to leap into the lead. Thorne finished second with Vranckx an impressive third.
Latvian driver Roberts Vitols (Citroen C4) finished fourth on his return to the series ahead of Ollie O'Donovan and local star Tristan Ovenden (Citroen DS3)
Motorsport UK Supernational Rallycross Championship
Polish driver Slawomir Woloch (BMW M3) dominated the Supernational final to claim victory in the two-wheel-drive division as the top rear-wheel-drive runner, but behind the battle for second was frantic throughout as Polish driver Maciej Florczak (Ford Fiesta) fought for position with Dave Van Beers (Renault Clio), Florczak ultimately coming out on top to claim the runner-up position.
Motorsport UK Junior Rallycross Championship
Tyler Mcalpin dominated the Junior final from the front of the order to claim a maiden win in style. Behind the race leader, Ryan Smith held second throughout while the attention of the crowd was drawn to the battle for third, as Will Ovenden challenged Corey Padgett but could find no way through and it was Padgett that came out on top.
Swift Sport Rallycross Championship
Reigning champion Max Weatherly held off the attentions of Chris O'Hara to claim victory in the Swift Sport Rallycross Championship while O'Hara finished just behind in second. Former Supernational champion Paige Bellerby's race ended in the first corner, and it was local driver Damian Constable who completed the podium.
RX150 Championship
World Rallycross podium-finisher and Extreme E race-winner Klara Andersson pulled off an around-the-outside move in the RX150 category final to take the lead and never look back, as she made her Lydden Hill debut. Andersson jokered after former RX150 event-winner Nick Priddy and retained her advantage to claim the win, while Priddy finished second and Stephen Jones was third.
BMW Mini Rallycross Championship
Reigning champion Dave Bellerby stormed to victory in a dramatic BMW Mini final, which was initially led by pole-position starter Charley Moroney. However, contact on the opening lap made smoke poor off Moroney's right-rear wheel and he would eventually spin after the circuit's jump, and in the joker lap. James Constantine climbed the order to finish second on his BMW Mini debut, while Sayer was classified third following a post-race penalty.
Edward Stallard claimed victory in the All4 Mini final, less than a second ahead of reigning champion David Bell, while Andrew Hawkes claimed third to finish on the podium on his debut in the category.
Retro Rallycross Championship
Lee Wood (Ford Escort) won the Super Retro final, having overtaken reigning champion John Cross (Lancia Stratos) early in the race, then moving into first when race-leader James Harrold (Volkswagen Beetle) spun out with broken suspension. Cross finished second while Ray Morgan (Ford Escort) was third.
Tony Lynch (Toyota MR2) and Terry Moore (Austin Mini) had a fantastic battle in the Retro Rallycross final, Moore overtaking Lynch on the opening lap, then defending the position before pulling a margin at the head of the field. Lynch finished second with Dan Swayland (Ford Escort) third.
The second round of 5 Nations BRX takes place on Easter Monday (April 10), also at Lydden Hill.