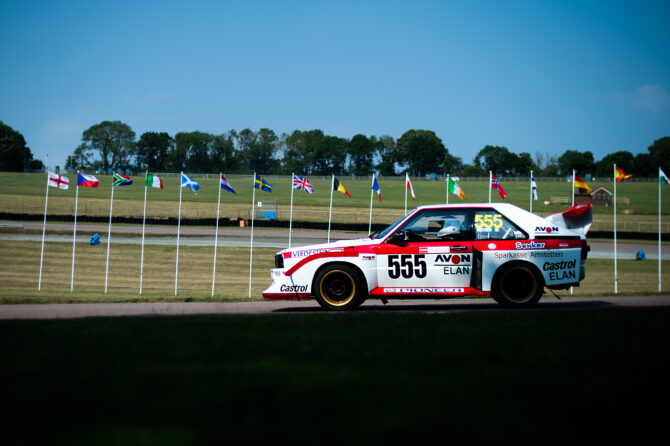 Retro Rallycross attracts massive entry for 2020
As entries officially closed, interest in the Retro Rallycross went through the roof with a further five drivers confirming their participation when the series kicks off at Lydden Hill this weekend (30/31 August). Mad Mark Watson, David Ewin, Paul Barratt, Dave Halford and Vince Bristow are among a huge entry across all three classes, that includes all three champions looking to defend their crowns.
Mad Mark will make a welcome return to BRX as he takes the wheel of his 600bhp Citroen Xsara Supercar in which he's previously contested the Supercar class. He will join the new-for-2020 GpB/4WD category alongside four-time British Rallycross Champion Pat Doran (Ford RS200), former Suzuki Swift racer Ian Flitney (Subaru Impreza), Dave Halford (Audi Quattro) and reigning GpB champion Steve Harris (Ford RS200) all vying for the £1000 cash prize.
Champion Gary Simpson heads the Super Retro entry list this year in his Bengt Ekstrom replica BMW E30 M3, with David Ewin (Mitsubishi engined-Ford Fiesta MkIII) and Vince Bristow (BMW 328) also now confirmed. They join a stellar line up that includes John Cross (Lancia Stratos R), Phil Collard (Renault 5), Ray Morgan (Ford Escort BDA) and making his class debut Paul Barrett (Ford Escort G3).
In the Retros 2019 champion Stephen Cozens (Citroen AX) returns to defend his title, but will face a tough challenge from the returning Tony Lynch (Toyota MR2), Vice-Champion Simon Hart (Ford Escort MK1), Mark Finch raising awareness for the RAF Benevolent Fund (Ford Fiesta), Terry Moore (Austin Mini), Ian Biagi (BMC Mini Clubman) and newcomer Robert Buckmaster (Ford Fiesta).
''After a slow start to the 2020 season the last few weeks have seen a spike in interest in the Retro Rallycross Championship. It's great to see our membership growing and to be able to welcome newcomers to our championship whether they be well known, established rallycross drivers such as David Ewin, Vince Bristow and Mad Mark Watson, or those new to us as Paul Barratt and Rob Buckmaster will be.
"The cars they will be bringing to the grids will add to our already eclectic mix of exciting classic rallycross cars and we are really looking forward to arriving at the home of rallycross for the opening round of our 2020 campaign.''
Retro Rallycross will appear at five rounds of the Motorsport UK British Rallycross Championship 5 Nations Trophy Presented by Cooper Tires starting with the opening round at Lydden Hill on 30/31 August. Double-header rounds will take place at Knockhill (26/27 September) and Pembrey (17/18 October). The GpB/4WD class will contest three rounds, with Pembrey's double header-round the finale.