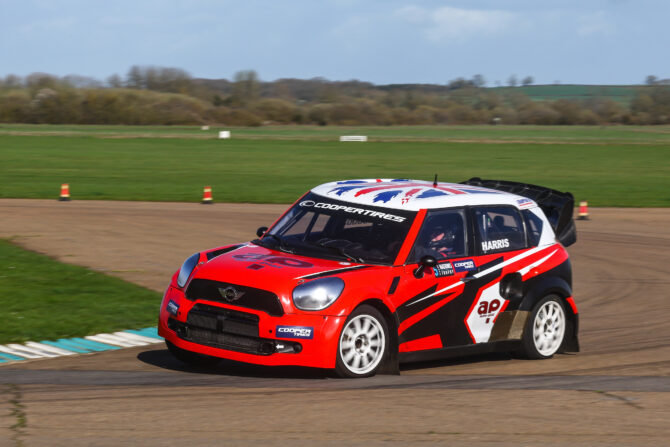 SH Racing to debut all-electric Mini RX in 5 Nations BRX at Lydden Hill next weekend
SH Racing will debut the Motorsport UK British Rallycross Championship 5 Nations Trophy's first all-electric Supercar when it fields the newly-developed Mini RX in the opening rounds of the season at Lydden Hill next weekend (April 8 & 10).
Following many months of work to retro-fit the STARD-created 450kW (613bhp) four-wheel-drive powertrain, the Mini RX featured as one of the headline cars on the Motorsport UK stand at the Autosport International Show in Birmingham at the start of the year.
However, at that stage the car didn't run. Since January, Harris' team, together with Sim-Tech Solutions Ltd and STARD in Austria have worked hard to continue the transformation of the Prodrive-built WRC chassis to fit the powertrain and begin testing.
The car ran for the first-time this week on private land, then was tested by both Steve and Jake Harris at the Bicester Heritage Center on Thursday (March 30), where the Mini RX completed a number of runs.
With car finished and authorised to compete, Steve and Jake Harris will race the Mini in the first and second rounds of 5 Nations BRX respectively, joining a strong Supercar field, with plans to compete in the entire season.
"The project has taken a lot longer to get to this point than I expected, but the car looks fantastic, the engineering on it is stunning and I was amazed by the performance when I first drove it this week," explained Steve Harris.
The powertrain boasts 1100Nm of instantaneous torque with a top speed of 240km/h from three road car electric motors, comparable to that of the leading ICE [internal combustion engine] Supercars in 5 Nations BRX.
"The major challenges haven't been Retro fitting the powertrain to the chassis so much, more that all the ancillaries that we needed to machine, and getting everything in exactly the right place. The packaging has been tricky. The Autosport Show gave us a deadline to get the car ready to that point, and since then the guys have been over from Austria to do what's needed to get everything powered up. We'll see how Lydden goes, but the intention is to do the full championship, probably with Jake doing most of the driving."
Find the full 5 Nations BRX calendar below, while tickets to the Lydden Hill Easter Weekend event can be purchased here.