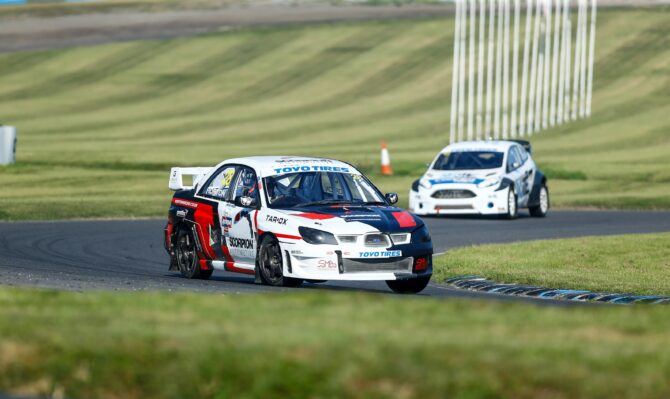 Simon Horton confirms return to Supercar in 2021 5 Nations BRX
Simon Horton confirms return to Supercar in 2021 5 Nations BRX
Clitheroe racer commits to 5 Nations BRX
Hortonracing Subaru Impreza set to light up the grids in 2021
Popular supercar racer Simon Horton is planning a return to racing in 2021 in the Motorsport UK British Rallycross Championship 5 Nations Trophy Presented by Cooper Tires. After Covid restrictions curtailed his plans to compete in 2020, Simon will contest the Supercar class aboard his self-built Subaru Impreza.
Work commitments contributed to Simon's decision not to compete previously, however with the recently announced schedule for 2021 is now 100% committed to getting back on track.
"Work, and of course the Covid restrictions hampered my chances of coming out to play last year, but this year the plan is get in as many rounds as possible," said Simon.
"In particular, Mondello, Knockhill and Spa all look like great events to do, but whether I'm able to confirm the whole championship, I'm not yet in a position to say. But I do 100% plan to race whenever I possibly can, I've been sat on the sidelines for far too long."
The Clitheroe racer has a wealth of experience under his belt; coming into rallycross in 2004 in a Stock Hatch Peugeot 205, Simon went on to win the 2014 BTRDA Supercar championship before moving up into the British Rallycross Championship. A podium finish at that year's Valkenswaard round helped him clinch fifth in the points standing, and in 2019 he again finished fifth despite missing the first two rounds.
Now he will return at the wheel of his 550bhp 4WD Impreza that delivers 0-60mph in just 2.5 seconds and joins an ever-growing list of returning drivers committed to 5 Nations BRX.
2021 Provisional Events
May 29 - Lydden Hill, England
May 31 - Lydden Hill, England
July 10/11 - Mondello Park, Ireland
August 29/30 - Pembrey, Wales
September 25/26 - Knockhill, Scotland
November 6/7 - Lydden Hill, England
December 4/5 - Spa-Francorchamps, Belgium