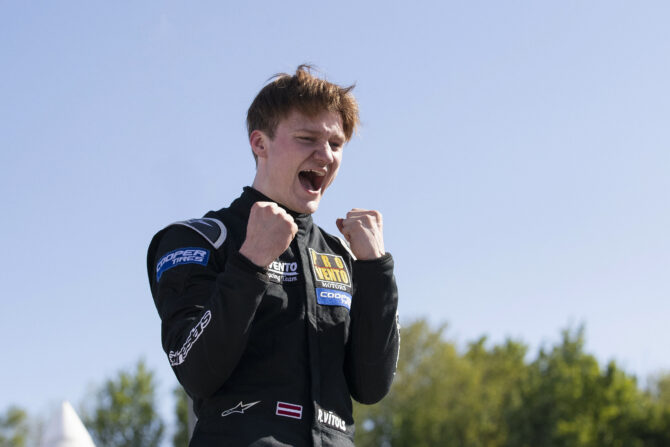 Team Duo announces Latvian star Vitols as first 5 Nations BRX driver
Latvian star Roberts Vitols, a three-time Motorsport UK British Rallycross Championship 5 Nations Trophy event-winner, has signed for Team Duo to race a Citroen C4 in the series this year.
Former Super1600 champion Vitols stepped up to Supercar for the 2021 season and won three times, at Lydden Hill and Knockhill, as he battled for the overall crown.
Having made a single rallycross start in 2022, driving an electric RX2e car in his home round of the World Rallycross Championship, Vitols will return to 5 Nations BRX this season as the first driver to an announced for Team Duo.
20-year-old Vitols will contest at least first and third weekends of the campaign, both taking place at Lydden Hill. "I'm really excited to be back in 5 Nations BRX, especially in Supercar driving the same car that I won races with in my first Supercar season in 2021. It's always special to drive these wild cars and 5 Nations BRX has been like a home for me and my family in my career – I missed this place and I am excited to come back," said Vitols.
Team Duo will contest the new-for-2023 Teams' Championship alongside its drivers scoring points towards the Drivers' title. "At the moment we are set for the first events at Lydden, then we will see how things go and see what opportunities comes up later in the season, but we know I am sharing the seat in this car in the Teams' Championship," said Vitols. "It's of course beneficial that I have already raced the C4 and made a close connection with everyone on the team. I believe in these guys, I saw their desire to achieve great results and the passion with which they work on race cars every race weekend."
Vitols says despite being out of the Supercar seat for over a year, his desire to succeed remains the same. "I haven't driven a Supercar car since 2021, and l won't have a chance to test before the first practice session at Lydden Hill, but I race only to win – nothing else interests me so the same goal is every time I step in a race car, no matter in what competition. I have been training hard this off season and feel in very good physical and mental shape, this same approach allowed me to win already on my Supercar debut at Lydden Hill back in 2021. The competition will be hard, but I want and love the challenge and looking forward to doing my best."
Further news about Team Duo's driver line-up and wider team will be revealed ahead of the opening round of the season.
Find the full 5 Nations BRX calendar below, while tickets to the Lydden Hill Easter Weekend event can be purchased here.