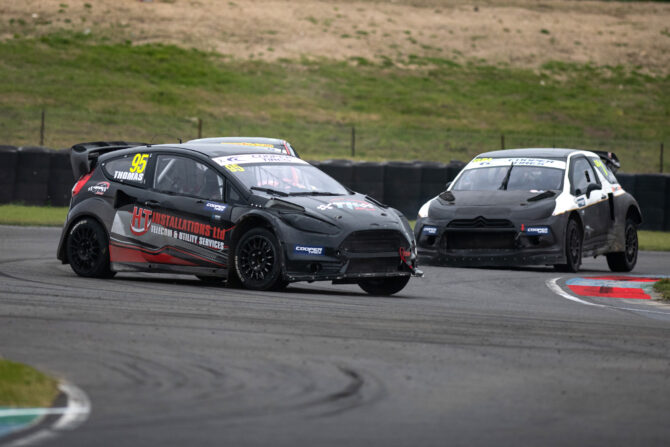 Thomas embarks on 5 Nations BRX 2022 programme with Ford Fiesta Supercar
Welshman Roger Thomas will return to the Motorsport UK British Rallycross Championship 5 Nations Trophy for a selected programme of events in 2022, driving his M-Sport-built Ford Fiesta Supercar.

5 Nations BRX podium-finisher Thomas began using the Fiesta in 2019, following an extensive overhaul by Tony Bardy Motorsport, and the pairing have since displayed event-winning potential.

While Thomas is yet to claim an outright victory in a 5 Nations BRX event, he has finished on the podium, including at Silverstone and Pembrey in the headline Supercar category. Alongside racing Ford Fiesta, Ford Focus and Opel Astra Supercars in his rallycross career so far, he has also campaigned MG Metro 6R4s in the Retro Rallycross Championship.

Now, having joined the influx of Supercar drivers signing up for the 2022 5 Nations BRX campaign, which features two fresh venues for the series, Thomas, who raced in three rounds last year, has eyes to returning to the podium and challenging for victories.

"I'm definitely going to Lydden for the first rounds. I love that track, it's fantastic. I'm very keen to race at Mondello Park [Ireland] and in France [Dreux] as I've never been to those tracks, and I've seen the work going into the new changes at Pembrey which will certainly be better than the previous version of the track there too," said Thomas. "I'm going to do as many rounds as I can. The car is pretty much as it was, we have some work to do with the launch procedure, which fingers crossed can get sorted before Lydden. We've had a few podiums before, and won a couple of semi-finals so if things go well and with a bit of luck I'm hoping to get a few more podiums and improve on our third places with maybe some seconds or a win. That would be great!"

The British Rallycross Championship 5 Nations Trophy will get underway at Lydden Hill for a double-header weekend on April 16-18. See full calendar below.