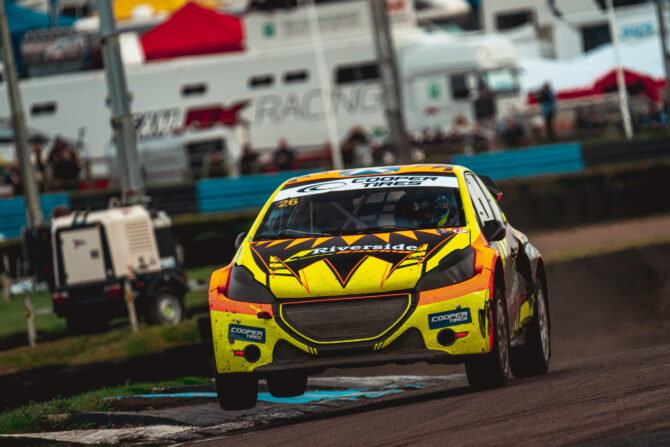 Thorne returns to 5 Nations BRX following career-saving sponsorship deal
Former Motorsport UK British Rallycross Championship 5 Nations Trophy event-winner Jack Thorne will return to the headline Supercar category in 2023, starting with the opening rounds of the campaign at Lydden Hill next month.
A former Super1600 category champion and Supercar contender in a number of different cars, Thorne switched to an Albatec Racing-built Peugeot 208 for the final rounds of the 2021 season and secured victory in the finale at Lydden Hill. But, as had been the case several times previously, his career was then put on hold. He made a one-off appeared in a Pat Doran-owned Citroen C4 at Lydden Hill last year, but the outing was curtailed by niggling issues and he didn't have the budget to contend further rounds.
Now, thanks to the support of a new sponsor, NMA Flooring Ltd, attracted by the Devon driver's proven ability and the frenetic action of a 5 Nations BRX weekend, Thorne won't be on the sidelines as expected in 2023, and will get his season under way with the first rounds at Lydden Hill on April 8th and 10th.
"I'm very excited for Lydden. I've done a bit of rallying while I've been away but I'm looking forward to getting back into rallycross where you are pushing hard from the get-go," said Thorne.
"I've had a few things going on away from racing, some people were half interested in buying the Peugeot but it's still here. Then a customer of mine asked why I wasn't racing, I explained the reasons and he offered to get involved for the first rounds of the championship this year and go from there. Having NMA Flooring Ltd come on board is the kick start I needed for this season to get back on the scene. Hopefully Lydden goes well and we'll see how we can progress from there."
Thorne will continue to run car with his own team, but hasn't driven it since November 2021, nor has he competed on the new-look Lydden Hill circuit, introduced last season.
"The championship looks like it will be strong this year," Thorne continued. "Looking at the bigger picture, and thinking with a bit more maturity now, the plan has to be to just try and get to the final at each round, then anything can happen. And of course, enjoy driving the car and being part of the events. But, once the helmet and gloves go on, I want to be back on the podium. We need to be realistic, there is no doubt that the car is capable, I just need to get back into the groove myself, set the car up to suit the new layout at Lydden in practice at Easter and see how it goes."
Find the full 5 Nations BRX calendar below, while tickets to the Lydden Hill Easter Weekend event can be purchased here.