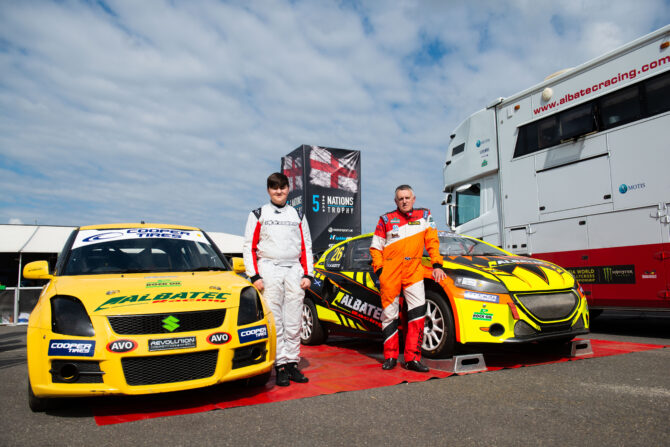 Three generations set for 5 Nations BRX outing
Vice champion Andy Scott returns to Supercar
Multiple champion son Marc to headline RX150 entry
Grandson Finley set for rallycross debut in Junior
Double Supercar vice-champion Andy Scott will lead three generations of the Scottish family into rallycross this season in the Motorsport UK British Rallycross Championship 5 Nations Trophy Presented by Cooper Tires.
After a sabbatical from rallycross to concentrate on rallying and building up his business, Andy was due to return to 5 Nations BRX in 2020 however the Covid pandemic put paid to those plans. Now, the Dumfries racer armed with his 600bhp Peugeot 208 RX Supercar will take to the track once more starting with the first two rounds at Lydden Hill which take place on Saturday 29th and Monday 31st May.
Joining Andy in the Albatec Racing line up is the returning multiple RX150 champion Marc Scott who resumes his rallycross career after a three-year absence. Marc was a force to be reckoned with back in 2012 winning back-to-back titles for three years, as well as making a successful Supercar debut in the ex-Will Gollop Peugeot 306 now owned by Andy. In 2014 Marc then joined his dad in the FIA World Rallycross Championship line-up in Turkey, to become the first father and son pairing in World RX.
Completing the line-up will be Finley, the karting child of Andy's eldest son Ben. Finley has enjoyed being around the rallycross paddock from an early age, watching his 'Papa' and Uncle Marc, before himself making the move into competition. Now 14, Finley will step up into the Motorsport UK British Junior Rallycross Championship at the wheel of Patrick O'Donovan's Suzuki Swift after a year in Karting. Both Andy and Finley got to grips with their respective machines during the first pre-season test of 2021 at Lydden Hill today (14 April), however Marc was unfortunately unable to attend.
"We had every intention of competing in 2020, however the travel restrictions and uncertainty surrounding the pandemic meant it was just not feasible," said Andy. "Now, as things appear to be improving around the country, I'm keen to get back out and have some fun. It's been a while since I've competed in rallycross, but I'm very much looking forward to racing against all the familiar names again, and hopefully some new drivers to the 5 Nations Trophy.
"Having Marc back out will be great, he enjoyed considerable success in RX150s and put on a good show in Supercar. I'm eager to see how he fares on his competitive return. And of course, Finley who after a year in karting is now ready to make the move into rallycross. It will be interesting to see how he adapts to cars, but I'm certain he'll put on a good show."
Albatec is pleased to be supported by the National Centre for Motorsport Engineering based at the University of Bolton, Rock Oil, Motordrive, Rostrum Sportswear and Billfisher III.
MSUK British Rallycross Championship 2021 Provisional Schedule
May 29 - Lydden Hill, England
May 31 - Lydden Hill, England
July 10/11 - Mondello Park, Ireland
August 29/30 - Pembrey, Wales
September 25/26 - Knockhill, Scotland
November 6/7 - Lydden Hill, England
December 4/5 - Spa-Francorchamps, Belgium