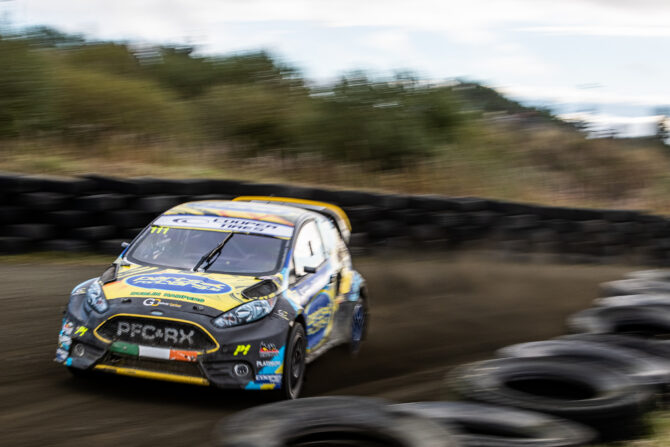 Tohill takes Supercar victory amid Knockhill dramas
It was a day of fire, drama and attrition in the latest round of the Motorsport UK British Rallycross Championship 5 Nations Trophy presented by Cooper Tires at Knockhill held in glorious weather conditions for round five of the British Rallycross Championship and round six of the remaining championships.
Derek Tohill (Ford Fiesta) won round 5 of the Motorsport UK British Rallycross Championship with a stunning performance this afternoon. The multiple Irish champion was in dominant form, taking victory in two of the three qualifying races to take his second win of the series and crucially move into third in the points table. Yesterday's winner Roberts Vitols overcame two DNFs in the qualifying races and a win in the third to claim second ahead of six-time champion Julian Godfrey who took over the Citroen DS3 of reigning champion Mark Donnelly following mechanical issues to his own Fiesta. Steve Hill took fourth, Ollie O'Donovan was docked five seconds for track limit infringements and finished fifth ahead of Tristan Ovenden but holds onto the championship lead now shared jointly with Vitols.
Jason Bleasdale powered his stunning Vauxhall VX220 to its second MSUK Supernational Rallycross Championship win of the weekend with a controlled victory in the Final to extend his championship lead over Slawomir Woloch (BMW M3). Reigning champion Paige Bellerby suffered a broken driveshaft to her Lotus Exige earlier in the qualifying races but came home third.

Max Langmaid once again proved the youngster to beat with another supreme performance in the MSUK Junior Rallycross Championship round. After a rare error in the final qualifying race, the teenager came through for his fifth win of the season to extend his series lead. Will Ovenden was just unable to repeat the result of his older brother Tom who took his maiden win in Minis secured at Silverstone this weekend, he did however take a well-earned second spot ahead of the fast-improving Finley Scott.

Max Weatherley enjoyed his second win of the weekend with a dominant performance in round six of the Swift Sport Rallycross Championship. Local hero Don Macleod went one place better than yesterday, to record second place and another podium finish in front of his family and friends. David Watt completed the podium places ahead of series newcomer Ansko Pikanen.
Barry Stewart (Porsche 911) returned to his winning ways with a controlled lights to flag win in Super Retro, finishing just ahead of John Cross in his normally immaculate Lancia Stratos that was missing much of its front bodywork. Ray Morgan (Ford Escort) held off a concerted challenge from yesterday's winner Vince Bristow (BMW) to claim the final podium spot.
Pembrey Retro Rallycross winner Tony Lynch was the man of the weekend after an eight hour round trip to repair his Toyota after yesterday's fire to enable him to challenge yesterday's Retro Rallycross winner Simon Hart (Ford Escort). Sadly, his efforts came to nothing after he rolled out of the final leaving Hart to collect his second win of the weekend.
Tom Constantine finally earnt the result that reflected his performance in BMW Mini RX with victory in the Final. Starting from pole it was Dave Bellerby who took the early lead, however he pulled off the track when the relay popped out allowing Constantine through for his first win of the season. Dave Ellis was docked five seconds for track limit infringements but still came home second ahead of Pembrey victor Stephen Brown.
Darren Scott (Citroen C2) saw his hopes of extending his Super 1600 championship lead end in a cloud of smoke after retiring yesterday. With Phil Chicken (Citroen C2) also sidelined with a broken crankshaft, it was left to reigning champion Craig Lomax (Citroen C1) to uphold the honours, but he too failed to cross the line with mechanical problems but took maximum points.
After qualifying wins apiece for Tommi Caldwell, Patrick O'Donovan and Stephen Jones, it was Jones who lead following a spin by Caldwell who ended up last. Given a second chance after the race was red flagged, Caldwell took the lead at the restart with O'Donovan and Jones battling behind. O'Donovan then suffered a spin which put him back to third with Caldwell in the lead after the jokers, Jones clinching second.