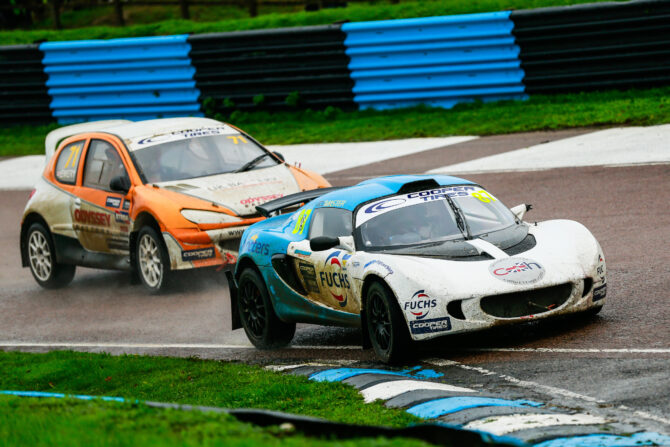 Top front and rear-wheel-drive Supernational competitors to receive new awards in 5 Nations BRX 2023
Competitors in the Motorsport UK Supernational Rallycross Championship within the Motorsport UK British Rallycross Championship 5 Nations Trophy will receive extra reward for their efforts in the 2023 season.
The Supernational category remains an intrinsic part of the history of rallycross as a discipline, broad technical regulations allowing a wide range of solutions to competing in two-wheel-drive cars.
For 2023, not only will the top three drivers in the Motorsport UK-sanctioned class be awarded at each round of the championship, and the season overall, but in a new initiative, the highest-placed front-wheel-drive and rear-wheel-drive competitors will also receive a new trophy, at every round of the season.
The Supernational FWD Cup and Supernational RWD Cup will be awarded to the highest placed driver in each of the sub categories, while an additional season award will be presented to the competitor that best befits the 'Spirit of Supernational' chosen by an expert panel ahead of the annual Night of Champions at the end of the year.
The final round of the 2022 campaign at Lydden Hill marked a strong event for the Supernational division, a trend that 5 Nations BRX is working to build on into 2023.
Drew Furlong, 5 Nations BRX Championship Manager:
"The Supernational category is very important to us as a championship, because its ethos is so rooted in our sport's history. But, the age-old problem has been that the rear-wheel-drive cars so often make better starts, and sometimes that makes them hard to beat for the front-wheel-drive competitors. This new incentive is to reward the highest placed drivers in both front and rear-wheel-drive, separate to the overall prizes. There are some fantastic Supernational cars around the country, and we hope this incentive will encourage competitors to bring them out this year for fans to enjoy."
Find the full 5 Nations BRX calendar below, while tickets to the Lydden Hill Easter Weekend event can be purchased here.