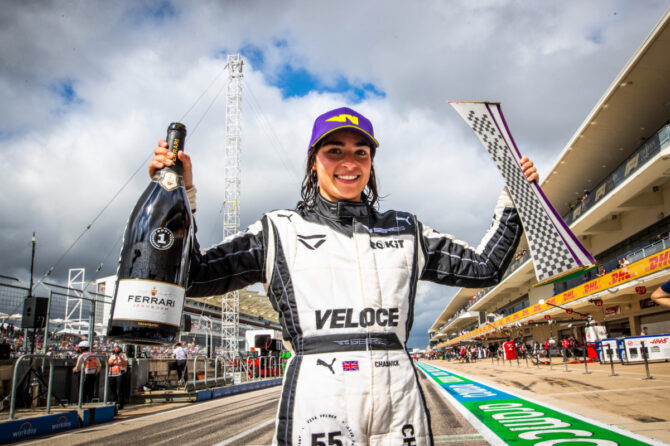 W Series star Chadwick and truck champion Smith join 5 Nations BRX for Pembrey
Two-time W Series champion and Extreme E racer Jamie Chadwick will make her rallycross debut in the Motorsport UK British Rallycross Championship 5 Nations Trophy at Pembrey Circuit next week, lining up alongside six-time British Truck Racing Champion Ryan Smith.

The pair will race in the single-make RX150 Championship for single-seater buggies in the double-header event at the Welsh Circuit

Chadwick, widely regarded as the UK's top female racing driver, claimed back-to-back W Series titles in 2020 and 2021. Following victories in America, Spain, the UK and France this year, she also leads the 2022 campaign, driving for Jenner Racing.

The Williams Formula 1 Development Driver also has off road experience, compete in the Extreme E off road series, but her Pembrey start will mark her rallycross debut.

"'I'm so excited to get my first taste of rallycross at Pembrey in the RX150 Championship," she said. "It's something I've wanted to do for a long time so I'm very grateful to Pembrey for the opportunity. I'm looking forward to learning as much as possible and enjoying the experience!"

Ryan Smith meanwhile is a six-time British Truck Racing Championship champion and while he is well accustomed to racing on the all-tarmac race circuit at the "home of Welsh Motorsport" the rallycross experience will be all new to him.

"Pembrey is one of my favourites tracks on the calendar to race at so it's a pleasure to be able to compete in what is such a prestigious event," said Smith. "I'm looking forward to getting behind the wheel of something that is very much out of my comfort zone; I'll be giving it my all and I'll look to put on a show for the fans."

Former British Rallycross Champion Nathan Heathcote is also set to make a return to the rallycross arena at the Pembrey event, as he returns to the headline Supercar division with a Citroen C4. The full entry list for the event will be published next week.