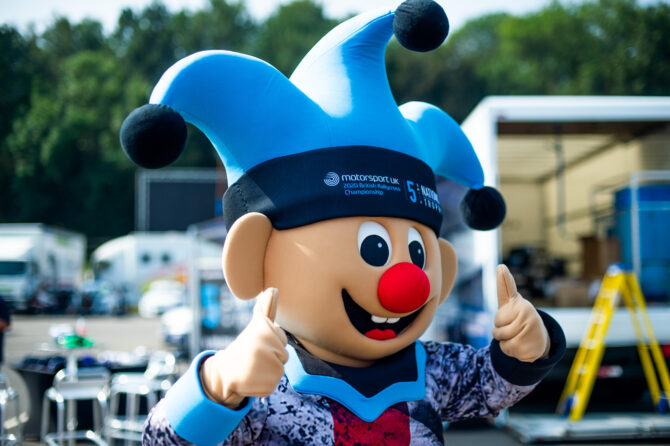 Where to follow the action from 5 Nations BRX this weekend
12 Supercars among a strong entry at Lydden Hill
Regular updates across all 5NationsBRX social media channels
Livestreamed 'Meet and Greet' with key drivers and VIP guests
Meet Joker the 5 Nations BRX mascot
An impressive ten classes will be competing in the season-opening Motorsport UK British Rallycross Championship 5 Nations Trophy Presented by Cooper Tires at Lydden Hill this weekend. 12 two litre 600 bhp 4-wheel drive turbocharged flame-spitting Supercars head the line-up which sees reigning champion Julian Godfrey, former champion Ollie O'Donovan, WRX challenger Oli Bennett and Olympic cyclist Sir Chris Hoy MBE among those battling for victory.
Iconic cars such as Group B Ford RS200s and Audi Quattros head the retro class, with front-wheel drive 1600s, Supernationals, Minis, Swifts, Swift Juniors and the super-fast super-fun RX150 buggies, signalling 23-time Isle of Man TT winner John McGuinness' car racing debut, completing the line-up.
It's not just the on-track action that will get pulses racing though. 5 Nations BRX has revealed some of the off-track entertainment planned for the opening round offering a feast of family fun to help bring together the rallycross community at the Home of Rallycross.
On Sunday after racing has finished, Lydden will host a soapbox race which is FREE and open to everyone attending the event. (Tickets for the race weekend must be purchased separately in advance) with only a limited number still available from: https://lyddenhill.co.uk/events/motorsport-uk-british-rallycross-5-nations-trophy-round-5/.). Entry forms for the soapbox race are available from the secretary of the meeting simone@lyddenhill.co.uk
Also taking place on Sunday evening, Lydden Hill will host the first 'meet and greet' of 2020 which will be live streamed across the 5 Nations BRX website www.rallycrossbrx.com. Drivers and invited VIP guests will chat about their hopes for the weekend while the soapbox event is taking place. 'Grill on the Hill' will provide spectators with the opportunity to hear from the biggest names in British rallycross during the current pandemic restrictions that are in place, with the focus very much on taking the drivers to the public.
So where can you catch up on all the information from the weekend? Live timing will commence from the first track action on Sunday at https://www.rallycrossbrx.com/live-timings
Across our social media channels, you can get all the results on Twitter https://twitter.com/5NationsBRX, regular updates on our Facebook page https://www.facebook.com/5NationsBRX, paddock insights and updates on Instagram https://www.instagram.com/5nationsbrx/, while footage will be uploaded to our YouTube channel: https://www.youtube.com/5NationsBRX
New for 2020 will be a range of 5 Nations BRX merchandise so rallycross fans can support their favourite discipline with a range of clothing and goodies. This will be available to purchase on event, but also via the official 5 Nations BRX website at www.rallycrossbrx.com.
Also new this year is 'Joker' our new mascot who made his first public appearance at the recent Press and Test Day. 'Joker' will be at every round of 5 Nations BRX and will be on hand to entertain throughout the weekend and be available for photograph opportunities wherever possible.
Track action commences with free practice from 11.00 on Sunday, and the first qualifying races from 13.45, Q2 gets underway from 15.00. Monday resumes with warm-up from 09.15 with qualifying three from 10.45 and Q4 from 12.45. Semi Finals and Finals start from 14.00. (All times remain provisional and subject to change).